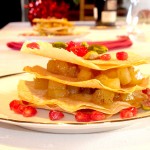 Our cuisine is inspired by French-Belgian flavors mainly based with produces issue from our organic garden and from the island.
Every second evenings, we welcome you at the table for a full menu comprising appetizer, first plate, main plate and dessert (Reservation the day before)*.
*In case of vegetarian menu and/or allergy, thank you to advise us at the reservation.